Last month, when Summer Knotgarden was put away, I had every intention of finishing early this month so I could get Dorothy that much closer to a finish. This is a picture from 6/16.
Then, early on June 18, I submitted my application to another employer. By 4pm, I had a phone call from the CFO of this company requesting to set up an interview. We set that up for 10:30am on the 20th. By 9am the next morning, I had another call from that CFO offering me a job. Holy cow! I've been looking off and on for over two years! AND this was for about 6.5% more than I was making. I asked for the weekend to decide. Monday, June 24th, I accepted the offer. Why do I tell you this? Because my new job is so much different from the old one! I started on July 8th. Since my kids were in camp last week and I had to pick them up earlier than 5pm, I did not take a lunch break except to inhale something to eat. So no stitching. :( Even though they were at their grandma's the week of the 4th of July, I've made little progress on Summer Knotgarden. Some of that can be blamed on a couple of books I've read too.
Anyway, progress as of July 5th was slow but there.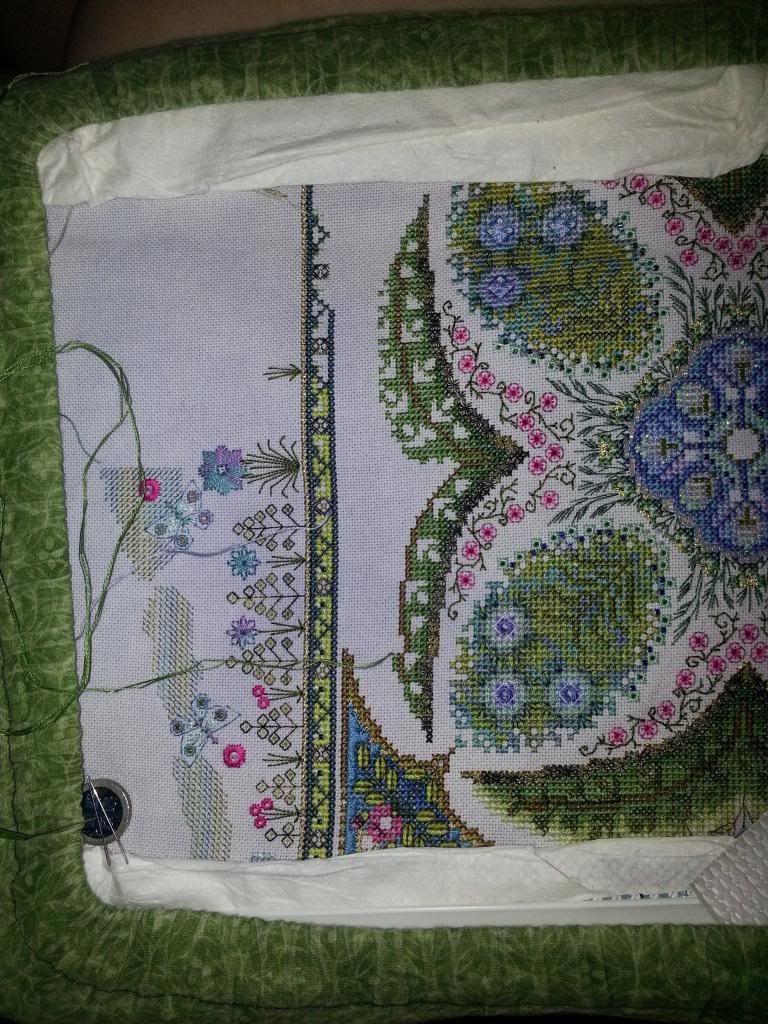 And 7/11 had part three finished and I was starting to move to parts 4-6.
My husband is working all weekend so I'm hoping there is lots of time for stitching so I can finish sometime in the next week. The boys are going to a friend's house during the day so I can get to work earlier. I'm thinking I will eat while I'm working and stitch for a half hour or so and still be able to leave by 4:30 every day. The best of both worlds I hope